Free online Visacard
Quick and safe online payments
No 'credit check' (BKR)
Instant use
Pay at thousands of web shops
Register now
Would you like to pay in stores and restaurants as well? Choose a pay2d Basic card here.
pay2d virtual Free online Visacard
Simple
Available instantly: register online – quickly, easy and for free. Your pay2d account is ready to use immediately.
Safe
Secure payments: do not give internet fraud a chance. Pay2day virtual card, being an alternative online payment method, protects your regular bank accounts and credit cards against incorrect use.
Prepaid
Easy to top up: increase the balance of your pay2d virtual card through iDEAL or Sofort transaction or bank transfer.
Free sign-up
Pay in stores and restaurants with your card as well?
Register first, then apply for a
personal card
through your online account.
You will receive a card, registered in your name, within 48 hours.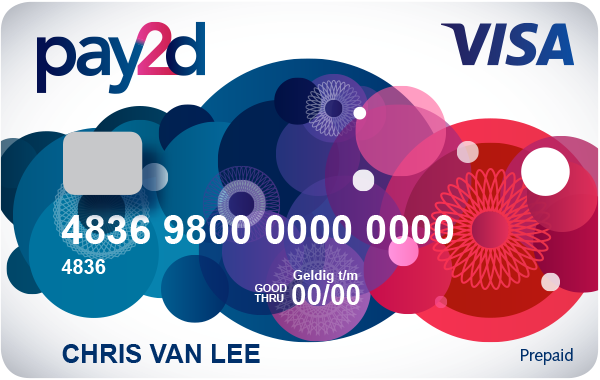 virtual
| Fees | plus | pro |
| --- | --- | --- |
| Fee charged for a pay2d virtual card orderd in the online account | free | free |
| Fee which is charged for top up with iDEAL transfer | € 2,- | € 2,- |
| Fee charged for each top up performed with wire transfer (bank transfer) | € 2,- | € 2,- |
| Inactivity fee for virtual card, charged if a card has not been active for 12 months, charged every month untill the balance is €0 or the card is used | € 1,50 | € 1,50 |
| FX fee charged for a non EURO transaction | 2,75 % | 2,75 % |
| Fee charged for each outgong transfer from a pay2d card to another pay2d card | – | € 1,- |
| Limieten | basic/plus (€) | pro (€) |
| --- | --- | --- |
| Maximum account balance | 150,- | 5.000,- |
| Maximum year load | 150,- | 20.000,- |
| Maximum spend for an online transaction | 50,- | – |
Card to card transfer
| Variations | plus | pro |
| --- | --- | --- |
| No 'credit check' (BKR) | | |
| Top-up with iDeal or bank transfer | | |
| Redeem to your bank account | | |
| Safe and fast online payments | | |
| Free IBAN | | |
| Valid for 5 years | | |